2022 MASTER COLLECTION MOBILE (16 packs) + GIFT
Regular price

$720.00

Sale price

$56.00

Unit price

per
16 packs of our BEST SELLING PREMIUM SIGNATURE PRESETS!
199 Professional mobile presets your perfect pictures 👌
+FREE GIFT - Everyday Instagram Highligh Covers
The best deal you have ever seen - 16 presets collections in ONE MASTER BUNDLE! Hand picked exclusive quality best selling presets that will be the only ones you'll ever need for every captured moment in your life. These presets are the most used by instagram influencers and photographers. Enjoy this one click magic and change the way you edit your pictures today!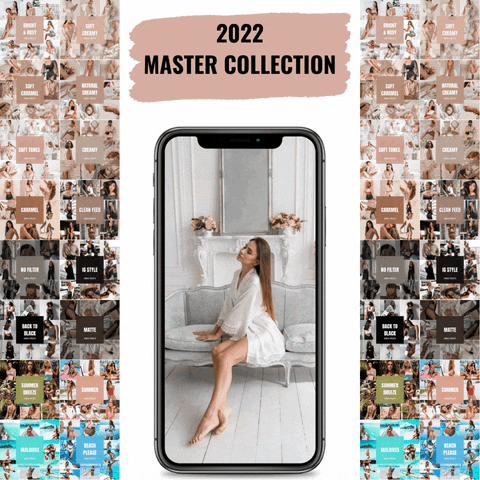 PRESETS COLLECTIONS INCLUDED:
CREAMY (15 presets) - Soft pastel beige tones and dreamy cream breeze will magically transform your photograph to marvelous stylish golden look. In step with trends we created this CREAMY collection for fashionistas and beauty lovers, who feel the importance of aesthetics.
IG STYLE (13 presets) - Fashionable and trendy look with well defined intense colors will transform your feed to max stylish and cohesive. That's exactly what we all want, right? 
CARAMEL (11 presets) - Warm golden brown tones for perfect yummy caramel photo look. Take your instagram feed to the next level with our CARAMEL presets collection. Bloggers and influencers approve! 
MATTE (15 presets) - The latest trends are finally here! Keep up with fashion in your picture editing too with our Matte presets collections for darker and mysterious shots. You will make your instagram feed unforgettable in one click!
BACK TO BLACK (12 presets) - Popping look of increased black midtones and stunning tanned skin will definitely take your feed to the next level!
SOFT CREAMY (10 presets) - Inspired by our besteller Creamy presets collection, we created soft and silky Soft Creamy look for our dearest fashionistas! Dive into those softer and brighter pastel tones to transform your photos to trendy and stylish!
SOFT CARAMEL (10 presets) - Inspired by our besteller Caramel presets collection! For all of those who love soft filtered edits Soft Caramel is the best choise! Perfectly matched creamy tones with a little flavor of bright caramel this collection tastes like your favourite latte in starbucks!
SOFT TONES (11 presets) - Soft, natural and slightly pinkyish tones are a way to go for you perfect moment capture! Apply that magical and soft, silky light edit to your photos to make them look super cute!
NO FILTER (10 presets) - Keep up with the latest trends and edit your pictures like a pro. Have you already heard, the most popular photo filter now is NO FILTER! Create inspiring and mysterious pictures with very little brightness ant matte touch.
CLEAN FEED (13 presets) - Get rid of these yellows, make your photos look marvelous with our CLEAN FEED presets collection. Glowing skin, cherry lips, golden brown tones and shiny hair - you will rock that feed! 
BRIGHT & ROSY (14 presets) - A splash of rose gold tones and pure whites to your picture - make it look marvelous and bright in seconds! A fresh splash of well balanced pink and white will make your skin look flawless, surroundings bright and hair shiny.
NATURAL CREAMY (12 presets) - Inspired by soft and gentle evening glow while sipping latte in the Old Town.  Natural creamy touch and pure soft brightness will bring the gentle pureness to your picture making it look like taken by a professional.
SUMMER (15 presets) - Beautiful bright colors with marvelous pastels in our Summer presets collection. Soft and natural edit brings out the best in your picture without changing it too much. Feel the vibe of warm summer breeze and sandy beaches! 
SUMMER BREEZE (9 presets) - Beautiful tanned skin and glowing eyes in this hot summer day! Make colors pop and bring out the best features of your vacation pictures with our natural and well defined summer presets collection SUMMER BREEZE.
BEACH PLEASE (16 presets) - Soft saltwater breeze and warm sand. Rocking vacations on the beach? Yes, please! Lightroom Mobile Presets BEACH PLEASE are made for that perfect beach photo! Bright and vibrant colours will definitely make your insta feed look pretty.
MALDIVES (13 presets) - Amazing sceneries and sexy bikinis - instagram feed will stand out with bright and vibrant Maldives presets collection. Dive in to the blue ocean paradise and sandy feet this summer!
EVERYDAY INSTAGRAM HIGHLIGHT COVERS - Create aesthetic instagram profile look with hand drawn high quality instagram highlight covers. 14 different hand drawn icons with hair and skin options: 252 icons for your personalized instagram look!
INCLUDED IN YOUR PURCHASE:
✔16 best selling collections -  199 Lightroom mobile presets (DNG files)
✔ Everyday Instagram Highlight Covers - 252 icons (PNG image files)
✔ Step-by-step installation instructions (pdf guide with a link to video tutorial)
INSTANT DOWNLOAD
Your presets files will be available for download right after completing the payment. Download straight from the final purchase page or from the received download e-mail.
SOME SERIOUS FACTS (:
✔
Created to work on most photos.
✔
Made with love by a photographer curated by a fashion stylist.
✔Perfectly works with Iphone and Android mobiles.
✔
Download a free Lightroom app on your mobile to use presets. Works with and without subscription.
✔
Easy to apply - just one click!
✔Constant updates for a lifetime
✔
Fully adjustable
✔One time payment - lifetime access
✔
Each preset may look differently on your photos. All the presets are pre-tested on different photos but you still may need some soft touch on adjustments for it to look perfect.
Share